There are many steps I take when it comes to dressing in lolita. It is not enough to just throw on a dress and not really think about all the other important aspects of an outfit. There are a good few steps I take that help me create and maintain the female silhouette.
Boy
Girl

One of my transformations that I posted on EGL a couple months ago.
Part A: Female silhouette
There is lots of help out there in the form of youtube videos and tutorials and even entire panels dedicated to helping males achieve convincing feminine looks. Luckily for brolitas, half the battle is already handled for us: the large poof of the petticoats hides any sign of male hips and non-hourglass shape bodies that can be subtle giveaways to nearby curious people. What these tutorials are helpful with though is 'hiding' your Adam's apple. Of course you cannot just make it disappear but through subtle makeup, you can make it blend in and make it far less noticeable. Now I personally do not seem to have this issue, as mine is not as noticeable as others. But I know some of my friends who's Adam's apple can be spotted from 100 yards out *total exaggeration*.
For breast there are many different tactics that people use, ranging from rolled up socks to rice in a sock/pantyhose to water balloons. Personally I started off using the rolled up socks before moving on to balloons filled with water *dangerous I know but nothing bad ever happened*. And for some time the balloons with water worked out great. They provided the figure I was looking for while also providing a somewhat convincing feel for those who were curious and wanted to
molest
feel what my breast felt like. But at Animazement, I quickly discovered the vast downside to the water balloons: Having worn them for a full day for the first time ever, they tore at my skin. In fact that whole week after Animazement was just crying in the shower cause my nips had become so sensitive. Attempts to alleviate future irritation with lotion rubbed onto my nipples *totally not meant to seem sexual XD* helped with the issue but did not completely solve the problem.
In the end, I went shopping at Victoria Secret with the Upstate SC lolitas and we bought me a new bra from the Miraculous collection *a bra collection that adds 2 cup sizes*. I loved the bra so much that I went out to buy a 2nd one not long after and promptly proceeded to retire the water balloon method that had tortured my chest. Since then, I have worn the VS bras by themselves with no additional stuffing.
VS
Taken at Metrocon 2011, water balloon tactics


Taken at Ikea meet, using just VS Miraculous collection bra


Can you tell the difference?
Part B: lolita outfit
1. Bloomers: Some brolitas may not feel the need to go these lengths and they may forego wearing bloomers completely. Its understandable, especially for guys who may sport boxer type undergarments. But I feel that despite the fact that few, if any, people ever see them, bloomers are important from an outfit completion standpoint. I wear bloomers every time I dress in lolita mainly because I am indeed paranoid about people looking up my skirt *or the occasional vent fans on the ground that will give everyone around you a Marilyn Monroe upskirt shot, such as the one I gave everyone around me at Anime Weekend Atlanta XD.... O how embarrassing*.
Of course, now that winter is fast approaching bloomers are beginning to come into their own for me: keeping me warm. Anime Weekend Atlanta was quick to show me just how much lolita protected the non core parts of your body from the cold: it did not XD. To help protect my thighs from future stinging cold weather, I have since had a new pair of bloomers commissioned to help keep the cold at bay.
2. Blouse: The cornerstone of any lolita closet, they say you only need 1 for all intents and purposes. Which is good because I only have 1 blouse, from In The Starlight, that I predominantly use. I have plenty of back up blouses though, most of them various finds at thrift stores over the months.
When buying a blouse there are a few things I shop for. Of course, sizing is always important. I aim to have relatively well fitting blouses though due to lack of experience I am not exactly sure what a well fitting blouse is. I kind of just aim to make sure that a blouse does not look ridiculous when I wear it and that it is able to adequately provide me with 'breast coverage'. Basically I do not want it to seem like I am about to burst out of a blouse when I am wearing it. I am also not very knowledgeable when it comes to identifying different kinds of lace so for the most part I try to avoid blouses with large amounts of lace on it.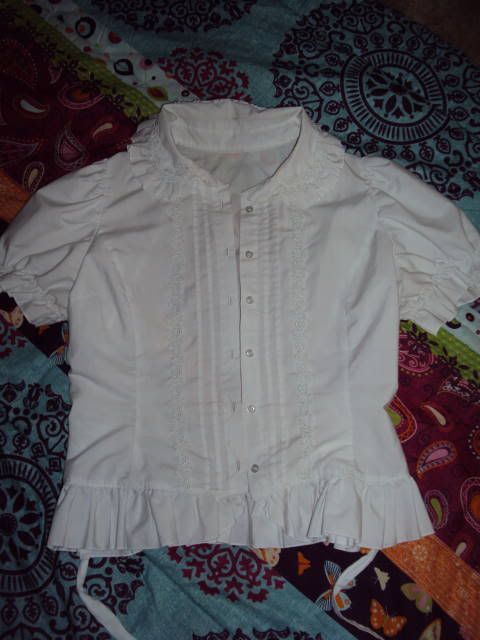 My In The Starlight blouse
3. Jsk/OPs: As a cross-dresser prior to my lolita days, I had never worn a dress. I was always far more comfortable wearing my broom skirts that provided maximum coverage. There were other factors that weighed in, including how scanty and form fitting many dresses were. And the ones I did favor were worth 2 pretty pennies, pennies I was not willing to pay. And then there was the Florida weather. For me, it seemed silly to wear dresses out in the hot afternoons of Jacksonville, Florida.
It was my cross into the lolita world that I began wearing Jsks and OPs. At first, I stuck to OPs. For me, they were the more 'complete' of the two options. But the OP era did not last. Tightness at the shoulders and arms, along with several purchases of loli-able blouses, allowed me to move on to Jsks.
When I shop for Jsks, I always make sure they fit into my measurements. And for brolitas, they have one nice advantage when it comes to shopping for dresses: they have some flexibility on how big they want to be at the bust. I personally work between a 37.5-40 inch range. The low end is for the brands like BtSSB, AatP, and AP, while the high end is used for brands such as Metamorphose and Bodyline. Other measurements I keep in mind, but are nowhere near as important for me, are waist and height. Sitting at 30.5 inches at the waist, only the smallest brands or skirts from AP, AatP, and AP will not fit. And with my height at 5'6'' most dresses fall to just around my knees.
4. Skirts: I have not worn skirts very often in lolita. For the longest time, skirts were more of an afterthought outfit piece. I really only wore skirt pieces at cons, since my Jsks were my article of choice to wear to most meets. But in my October meet with the Savannah lolitas, I decided for the sake of variety to go with a skirt outfit. Which surprisingly worked out much better than I had hoped, given the lack of a full body mirror at my apartment at that time.
Skirts have been a problematic option for me. Many brands make their skirt waists significantly smaller than their Jsk and OP counterparts. When I first bought my BtSSB Red Riding Hood skirt, I was distinctly saddened to find that it did not fit, its waist maxing out at 27 inches. I went on to have the skirt altered to fit up to a 32 inch waist. Since then I have only bought two other skirts, a black free-size BtSSB skirt and Bodyline's Carousel skirt in lavender.
Its debut is still in doubt, as I am seeking to sell this and obtain the Jsk instead
Socks: Socks come in all shapes sizes. Ranging from anklets to knee highs all the way up to full coverage tights, there is a sock for anyone. My personal sock drawer is dominated by knee highs though I have full coverage tights and anklets for situations that call for them.
When buying socks, I do not really put that much thought into purchasing them. I tend to stick to solid colors or stripe-based patterns as my staples. Occasionally though I purchase socks that either complete an outfit, such as my Night Fairy Fantasia OTKs, or are included in lucky packs, such as the Meta cute poodle socks I got.
Very recently, I ordered some sock glue, a garter belt, and a sock garter from Sock Dreams. This is indeed my attempt to make thigh highs and OTKs more viable in my sock closet. Hopefully once they get in I can report how awesome *or not so awesome* they are. Hopefully... they are awesome. Because with winter fast approaching I am looking for ways to stay warm XD
Shoes: I. Love. Shoes. I cannot tell you how shoe crazy I am for lolita shoes. I just cannot seem to get enough of them. As of upcoming monday *tomorrow... or today... or sometime in the past, depending on when you read this post* I will have over 10 pairs of shoes.
Current collection minus the 4 pairs of shoes still in the mail
As a brolita, it is quite important to be able to convert shoe sizes. In general, to convert male to female you add two shoe sizes. IE my male shoe size is 7-7.5 so my female size is 9-9.5. It is not a perfect art and there is still the concept of wide and thin and... other little things that I have no idea what they mean XD For the most part though, I tend to not have that issue when I shop from Japanese companies.
Visible in the pictures above, I love variety in my shoes. Most of the time I stick to flats for comfort but personally I love wearing heels. IMO there is something about lolita heels that adds more of a feminine flair to my outfits and helps me feel more complete. And of course, where would we be w/o talking about the upcoming winter season. Currently not pictured is my first pair of lolita boots, set to join my closet tomorrow. Pictures of these boots will come in later updates.
Well that just about covers the meat and potatoes of a lolita outfit. Tomorrow-ish I will cover how I do my makeup, handle accessories, and other little nit picky things that can come up.