Ah so my 2nd AWA has come and gone and the con high has finally faded away. Luckily the PCD has managed to stay away. But I do miss AWA.
I'm gonna venture off the beaten path here and just review my weekend but not rank it. I feel at this point, I've gotten my point across that I enjoy cons that are lolita-loaded, have dealer's room booths that interest me, and are outside of Florida.
Seriously I still do not know what it is about Florida. Though I suppose you could say Megacon never got a fair deal, its ranking based on a time before I had money, good cosplays, and large lolita gatherings. But it beat out Metrocon, and that's amazing.
Anywho, back to Anime Weekend Atlanta. Follow along.
Anime Weekend Atlanta this year was a huge, jumbled mix of new. I had wanted to do several new things to help start improving my con experiences so I began doing things pre-con that I had not really done before. I began participating more actively on the FB AWA groups. I applied to be in the H. Naoto and later on the Frill fashion show. To which I then got accepted into the Frill portion :) And I set up a 1 on 1 photoshoot with the awesome WashuOtaku. And probably my biggest change from my usual con going adventures was the choice to stay in a hotel room with 5 other people. I had stayed in hotel rooms with 1-2 other people before, but never this many for a con. I already knew 3 of em though so I figured it would not be so bad. And it was not :3
So. Lets recount the journey.
The weekend started off horribly. I only had Saturday and Sunday off and had to work on Friday. My goal was to GTFO from work by noon:30 AT THE LATEST. I was aiming more for 10 or 10:30 in the morning. But my trip would have none of that. I ended up in a worst case scenario, getting stuck having to complete a form using my work's complex system of BS and 15 letter passwords. In the end, I didn't leave work till 3:15. I didn't reach Atlanta till 7:30. And then I missed my exit when TomTom gave me terribad instructions. Which added 15 mins to my journey but easily could have been 2-3 hrs if not for my quick thinking and the sight of miles of traffic on the opposite side of the highway.
Needless to say, my friday, and my plans to see everyone, were dashed. I barely saw Grace for 5 mins the entire weekend. And I felt a sense of disconnect from everyone as I had essentially missed half the con and would go on to miss more the next day.
Saturday started OK. I got up and threw on my pre-fashion show outfit for my photoshoot with WashuOtaku. But even this hit snags. Even before we could start, some 'officials' said we could not shoot photos in a particular area, due to the buildings in the background, and we were forced to move closer to the convention buildings. Means we lost access to a lot of good shots but we made do with what we had.Afterwards I went off to meet up with the other models of the Frill fashion show and start getting ready. It was a lot of sitting around. Cold. Very cold >.< But it was fun to get my makeup done and be dressed up and model off a dress for everyone to see :3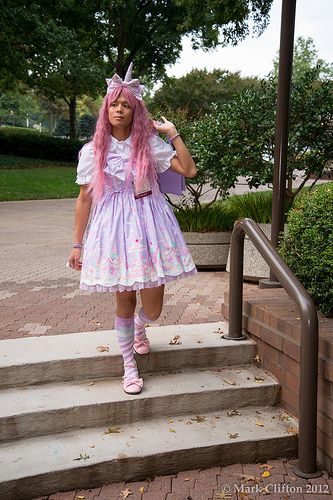 The first of a few.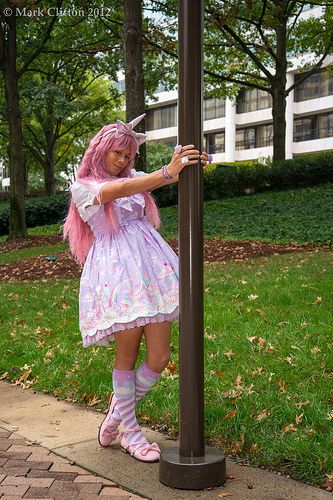 My personal favorite from the shoot.
You can see the rest here at his flickr:
http://www.flickr.com/photos/washuotaku/sets/72157631711405438/with/8061501130/
Behind the scenes: Sara and I getting prepped. Cold. Very. Very. Cold.




Behind the scenes: doing an on the face shortening of my paperset lashes
Behind the scenes: Closeup of my makeup and paperset lashes
Runway time! I know I look stiff. But it was the first time I'd been asked to walk with my shoulders up to prevent my dress shoulders from slipping off XDXDXD
Runway time! 1 of my 2 poses for the central runway portion.
The fashion ate up the first half of my dad, not getting out until about 3:15pm. I proceeded straight back to my room to go ahead and change into my first new cosplay since doing Pocahontas almost 2 years ago. It took a bit of rearranging everything to make it sit right and get me to fit in the elevator but we eventually got everything handled.
Cosplaying female ciel
Love taking window reflection pics. I'm a total sucker for them
I realized that the hat was blocking out light on my face so you could hardly see my face in most pics. Took it off here.
I didn't really do too much else on that saturday. Biggest thing I did was to visit and buy things from the H. Naoto booth. Wanting to finally get the special, I bought a pink cardigan. It got me the final star I needed on my stamp card and a picture with Naoto himself. And a big surprise awaited me: Apparently they had run out of their 'special' prize, since I was one of many to hit their 'special' level at the con on the same day. So they gave me an $80 credit to spend on anything in the store. I figured I should go big or go home. So I picked out a gorgeous black dress and paid the difference.
Its got a tail coat :D
Very heavy but very cute
On sunday, I opted not to stay for too long. I knew traffic in Atlanta was very finicky and if I got stuck for even an hour, I would be in danger of staying out way too late. So I packed up early and decided to wear lolita instead of cosplaying. Well, I shouldn't say I didn't cosplay. I did use a prop to go with my lolita outfit.
"I am the Aqua Princess. I will protect my seas and all those who inhabit it.
The tiara and gun were both handmade *well the gun handmade in the sense that I re-painted it*. And that is indeed the Rhapsody wig in rose that I am rocking.
And that was pretty much my weekend. I left soon after Jas Meow took her pictures.
AWA 2012 overall was a lot of fun. But I was hoping for it to be so much more. As my time here on the east coast winds down, I was hoping for AWA to be my big finale for cons on the east coast and instead it left desiring so much more. And so in order to hopefully satiate my hunger, I am going to attempt going to Anime USA or Faeriecon, which both happen to be in the same weekend :( But hopefully if I do go to either, it will be the big finale con that AWA 2012 could not be.